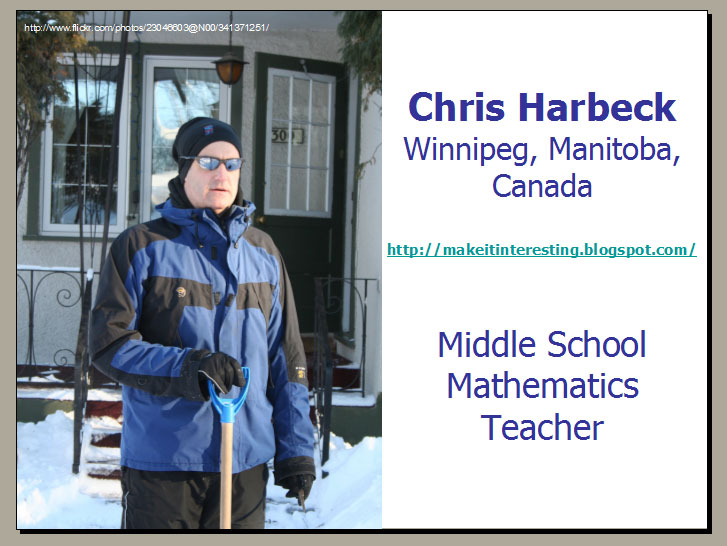 As part of my presentation for this week's CEGSA conference where I've lucky (silly) enough to be involved in four sessions of varying descriptions, I am doing a presentation titled "Online Teachers - Stay Connected And Relevant" that explores many of the ideas surrounding teachers who adopt an online presence. I always think that other examples of teachers in action leveraging Web 2.0 tools is a powerful to demonstrate the possibilities, so I arranged to interview Chris Harbeck, an innovative middle school mathematics teacher from Winnipeg, Canada. I first met Chris in the lead up to When Night Falls, the culminating event from last year's K12 Online Conference and he has constantly amazed me with the incredible stuff he has happening in his classrooms. Luckily for the rest of us, he blogs about it all at Make It Interesting and he was the first teacher example that sprang to my mind when thinking about first class practitioners leveraging the power of the read/write web. I approached Chris a while back, initially imagining having him Skyped in during the presentation but two factors will prevent that. One, Skype being impossible within our local Educonnect system (which is a major handicap in my mind for our education system in the technology area) and the second that Chris wasn't available at that time, being committed already to his balanced vacation time with his family. So, he proactively got me organised to interview him late last month and here are the results. I may cut this back a bit for the presentation as 23 minutes in a 45 minutes time slot is a big chunk but the whole conversation is really a great listen so I thought I'd share it here.
Interview with Chris Harbeck - July 2007. (23 mins, 21 MB)
Chris's Links
Class hubs
sp8mathzone.blogspot.com
sargentparkmathzone.blogspot.com
Class wiki's
room17math.wikispaces.com
spfractions.wikispaces.com
spunproject07.pbwiki.com
alatoba.pbwiki.com
Scribepost Hall of Fame
thescribepost.pbwiki.com
Growing Post hall of fame
sp8mathzone.pbwiki.com
Darren's sites
Ole tango
whiplash
Incredible student work
Student led conference E folio
Michelle
Jaymie
jake
Unprojects
Frations Julie and Charmaine wiki & project
Fractions Anjelic and Marielle wiki Project
Second unproject
Movie wiki
Movie wiki
Cartoon movie
Thanks heaps, Chris.