I've just poked my head from the haze of over two weeks worth of writing (typing) end-of-year student reports which here down under would have to be the most time-sucking, energy sapping, brain deadening thing to do in the whole school year. I swore (not the profanity kind) that I wouldn't post to my blog until I had finished.
And I have.
Sort of.
Well, my part anyway!
I share a classroom and so the report writing responsibilities have been split pretty fairly between myself and my tandem teaching partner. All of our student reports have three sections to fill with about 180 - 200 words of insightful text - I had to do two of these. Multiply by 30 students and the premise that each section will be uniquely composed and it's no wonder the blog has been dormant meanwhile. Then liase with my offsider to make sure we're not presenting contradictory views back to the parents.... well, you get the idea.
These busy times always seem to coincide with the more interesting online events in the "edublogosphere". Last time I was flat out was during the K12 Online Conference and I still haven't checked any more than the bewildering preconference keynote and half of Clarence Fisher's keynote.  Now apparently the edublog awards are on and some extremely generous person (or peoples!) decided to nominate TGZ for Best Teacher Blog. You may have seen the outsized badge in the sidebar - I found five minutes to install that but not to resize it so it doesn't look ridiculous. I'm hoping to beat the 5% I garnered last year (not looking good at the moment!), although with the voting fallout already wreaking havoc, I think I'll be content that someone (someones!) felt that my occasional writing was worth pushing forward for consideration. Anyway, I let James know about my feelings over there on the blog so enough on that particular topic.
(Although I did post this -" There seems to be a lot of lobbying for edublog award votes going on - some methods could mean a very hollow victory." - on twitter about 7 hours ago. I do like grapes that aren't quite ripe anyway.)
So, here's my point. Finally.
We finish school for the year in just over two weeks. My non-teaching friends always remark about how nice it is to be winding down for the year. Except every year it seems that we're winding up for the year. The pace is going to get hectic from now on with staff dinners, Year 7 graduations, assemblies, class party days, reports being published, kids finding which classroom and teacher they're getting for 2008, Kris Kringle (oh no, please, I'm being blackmailed into participating AGAIN), farewells for staff leaving, visits from staff joining us in the new year, jumping into new ICT program initiatives, blah, blah, blah, blah.....
No wonder I hate Christmas when all I want to do is go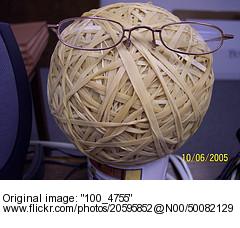 home, pad barefoot around the house for a few weeks, sleep in (until the kids bug me to get up), ring a mate to play golf, go for a walk along the Torrens or play Tiger Woods 2008 that I've only tried once since buying it two months ago.
Winding UP!
What usually happens is I'll come home after the last day of term with a massive headache. Basically, the rubber band that is my brain will be wound up so tight, it'll eventually snap.